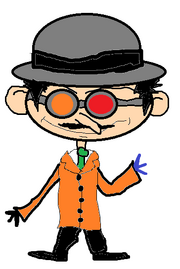 Allosaur is a rather large antagonist appears in a upcoming episode
Dinosaur Guy
. He is a odd-looking mad scientist. He was voiced by a Tommy Lee Jones, later he is voiced by a Liam Neeson
Appearances
Edit
He is very slender and has a messy black hair, mustache, sideburns, long nose, three fingers, green and purple eyes and wears grey bowler hat, goggles with orange and red lens, green necktie, orange coat, black shoes, pants, blue and black gloves.
He is very similar to the Dr. Rodney Rathbone from LEGO Monster Fighters, But he doesn't have a beard/goatee and he wears goggles. 
His mustache is very similar to the Captain Hook's.